Tanu (Kangana Ranaut) returns to Kanpur with her husband, Manu (R. Madhavan) left behind in a mental institution in London. Oddly, the husband lands in the asylum straight from what appears to be a marriage counseling session where he loses his temper over his wife's provocatively blatant lies to the board of counselors. But getting angry — even very angry — is no medical anomaly unless it turns one into a green giant. Also, do they have marriage counseling sessions in psychiatric facilities in London with the nursing staff all geared up and willing to retain the madder one for treatment? Such ready care in such delicate situation is hard to imagine in India, where it's just as hard to imagine a wife as absolute an individualist as Tanu.
However, in an unexpected display of humane concern, Tanu calls Pappi (Deepak Dobriyal) to tell him that her husband Manu was under treatment in a mental hospital for no particular disorder, and that Pappi should get him out at the earliest. Pappi drops in at the hospital in London and the institution releases him as though they just needed a surety for the release of a patient like they were prison authorities rather than doctors. It's the curious case of a caring hospital washing its hands of a patient too un-ill for any treatment at all. They, of course, never realize that they let the real specimen slip away and latched on to the wrong one.
Pappi brings Manu to back to India, and Manu, being a doctor, is invited to speak at a seminar in Delhi University. While he is halfway through his address, he catches a glimpse of a Tanu-look-alike, Kusum Sangwan or Datto (Kangana Ranaut). The close resemblance baffles and intrigues Manu, who leaves the podium in a huff to follow the much less glamorous, short-hair-different-teeth version of his peculiarly eccentric wife. But much before Manu runs into Datto, Tanu goes around trying to ignite all her past flames from Deepak, the rickshaw-puller, to Raja Awasthi, the ex-bully, in all the narrow alleys, broad streets and congested roads of Kanpur riding the pillion on the motorbike of Chintu, the aspirant lover.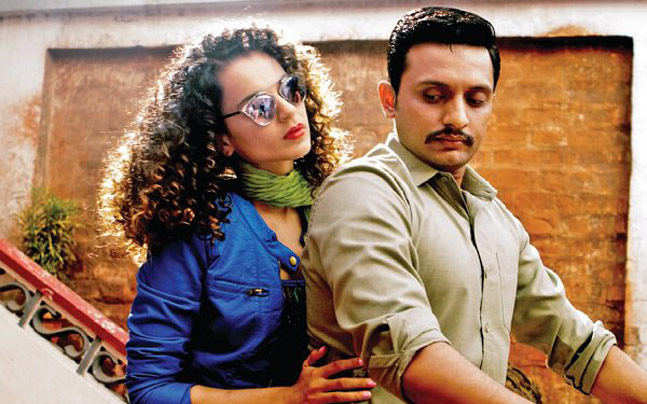 Tanu starts digging out past lovers in all earnestness only after receiving a half-hearted divorce notice from Manu, but that's certainly not the trigger for her flirtatious ways, for she is on with it right from the moment she steps out of Kanpur Railway Station and finds an old flame Deepak atop his rickshaw. Her suggestive inquiries made naughtier by playful poking — both literally and figuratively — about when exactly Deepak misses her makes it clear that one is looking at a reckless birdie spreading her wings while her dove-husband gains some asylum-dwelling experience. The divorce notice, despite the accompanying letter severely diluting its sincerity and intent, just happens to add some more fuel to a fire already burning bright. Tanu's rather unsavory flirtatious side seems to be part of the self-harming, deep-running rebellious streak that cannot be killed and needs just a small push to come raging to the fore. The divorce notice just gives it that little nudge. Or perhaps it's just an excuse for Tanu to break free of whatever was holding her back from shining her feminine charm on anybody who cared to pay attention. And then there are some undesired flies circling the flame, like Advocate Shri Arun Kumar Singh alias Chintu, who reads a little too much into the co-drinking, riding around and late night co-readings of Hindi pulp novels like 'Khooni Mangalsutra' (by Ved Prakash Sharma, perhaps), and does everything to derail the Tanu-Manu reunion and ends up becoming the last one to see Datto's ever-elusive 'kabootar'.
The news of Manu and Datto getting serious reaches Tanu through Raja Awasthi, and despite having 'moved on' and after having flirted around to her heart's content, she doesn't like it that Manu chose to move on, too. She decides to drop in for the sole purpose — as she haughtily declares – of examining Manu's choice of her successor.
Madam Tanu turns up a couple of days prior to Manu's scheduled wedding with Datto and says, "Wah Sharma ji. Hum thode bewafa kya huye, aap to badchalan ho gaye" ("Wow Sharma ji, I just got a little unfaithful, and you turned a downright philanderer"). A little faithful? Philanderer? What's she talking about? What colourful, multi-partnered, shameless 'little unfaithfulness', and what marriage-inclined, focused, one-woman philandering! But Tanu's rotten self-righteousness never allows her to look beyond her high nose anyway.
She doesn't stop at that, and turns around to heap insults on Datto by describing her as 'joker' and 'ganwaar' (uncouth) and remarking, "Reebok nahin to Reebook hi sahi" thereby suggesting Datto to be a substandard, cheap replacement of her classy self. Of course, she gets a more than fitting reply from Datto, who crashes into her refined-sounding, foreign-returned-liberated-woman sarcasm with the meteoric force of crushing reality-check pulverizing her grand castle of unreality with the sledgehammer of raw truth.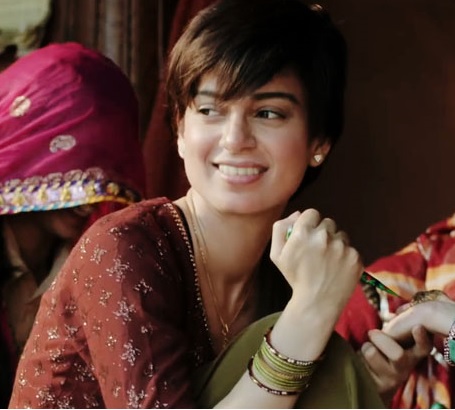 While Tanu is busy being her usual, utterly dislikeable self, Datto, played brilliantly by Kangana Ranaut — minor glitches aside — steals the show with the script working on all sides to give immense force to the character. Not only does Datto get the best lines to deliver, but is very adorable in her simplicity, which stands in stark contrast with Tanu's disgustingly overbearing ways. While Tanu is recklessly impulsive, Datto is firmly rooted. Tanu has fluffy ideas; Datto has concrete reality. Tanu sinks straight down tied to the weight of the egocentric poison of her selfish vanity. Datto, on the other hand, soars by the force of the unassuming elixir of her selfless regard for a man's genuine emotions. The two couldn't be any more different, and the starkness of difference between the two makes Datto shine through the thick, dark fog of Tanu's hollow pride. The sheer force of Datto's characterization more than covers up the minor flaws in the otherwise remarkable performance of Kangana Ranaut whereas Tanu's character is by itself so hollow that the viewers are left wondering whether it's Tanu's flimsiness or Kangana's acting flaws that makes Tanu look so plastic. But then, Tanu looks the way she is supposed to; by chance or by design doesn't matter much. And while it's 'Birhaana Road', not 'Biraana Road', and a few Hindi words of Haryanvi dialect sound a little harder and a little more cracking than Kangana could manage, she richly deserves all the accolades coming her way. And everyone else, including Jimmy Shergil and Deepak Dobriyal, have done their parts well though Dobriyal has been made to overdo his comedy to the point of being unfunny at some places, but he can't be blamed for the director failing in his rather overambitious attempts to milk all comic possibilities to the last drop.
The music is average, but the most popular number 'Banno Tera Swagger' stands out as an apt distortion of the traditional wedding song 'Banno Teri Ankhiyaan Soormedaani'. Given the fact that the word 'swagger' is not part of the everyday Hinglish vocabulary anywhere, including Haryana, it is very understandable that many – if not the most – took 'swagger' for 'sweater' before some more knowledgeable teenager whispered the correction. And 'swagger' is the right replacement for 'soormedaani', for what we have here are not eyes necessarily as pretty as 'soormedaani', but a heart of gold and the 'swagger' of confidence in the undeniable superiority of it. After all, even the stupefying allure of Tanu's glamorous charms has no chance against Datto's disarming simplicity and heartwarming goodness. It's only the insanity-inducing property of 'love' that wins Manu back for Tanu, for no sane man would return to a wife like this, particularly from the almost-married stage with a gem like that. But since we are batting for 'love' here, the end is perfect with Manu returning to Tanu. 'Love' doesn't lose, but Datto still wins hands down. Perhaps 'love' is not the only thing with magical properties.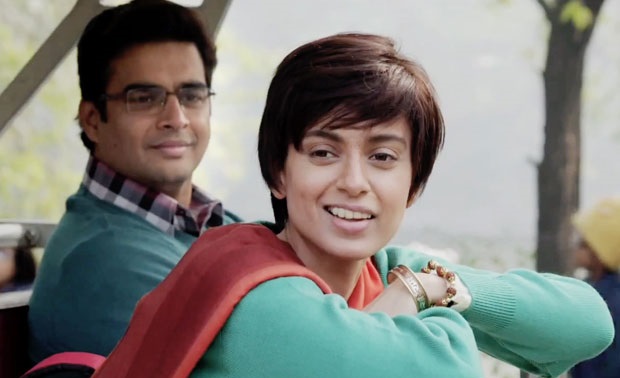 Lastly, to set the record straight, nobody really sends 'divorce notices' as warning shots. No legal notice is sent on a stamp paper. Divorces – even the mutual consent ones – are not concluded by exchange of papers, even if they happen to be stamp papers duly signed by both the parties. It takes a divorce decree from a competent court. But then, we are not doing realism here, are we? We are just doing 'rediscovering love' with some drama and comedy thrown in. And Datto is the unexpected bonus. Good enough.
Originally published as part of my Movie Review column LEGAL SCANNER in LAWYERS UPDATE [August 2015 Issue; Vol. XXI, Part 8].