Love is complicated. That's the easy part. But it may not be quite as easy to understand that it is not necessarily just. And that it is sometimes blatantly unjust. And also that on certain occasions it is perfectly capable of tearing one apart with disarming innocence. One can only squirm and fume, and get frustrated when that happens because there is nothing that one can do about it, and there is nobody one can hold guilty of anything when love settles all claims in one smooth, cruel swipe.
Awaargi is among the most heartbreakingly honest love stories ever told by Indian movies, and it is bound to leave you slightly uncomfortable with the hurtful realities of a much celebrated and badly misunderstood human emotion.
Azad, a strongman, is not completely at ease with the meaninglessly violent life he has been living under the care, affection and tutelage of a worldly wise gangster called Lala Jamaal Khan. And when, after another of his existential rants, he is sent away by Lala with a thick wad of money to have some fun, Azad goes straight to a brothel and runs into the one who would later become the love of his life and the bane of his existence – Meena.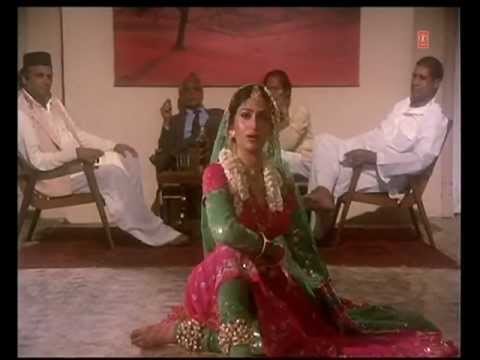 Brothels deal in girls and are maintained by fear and coercion. So, in getting Meena out, Azad makes a few very dangerous and permanent enemies, who, following Bollywood logic, return at the end of the movie to make some poetic adjustments to the climax so that the story is left to sail into the unseen future fully rounded and squared with all ingredients for the golden tomorrow perfectly matched and mixed.
Azad brings the girl home, and even his closest friend does not agree with this move that has started with earning the enmity of some very dangerous people. But Azad doesn't budge even after an attack on him and his friends, which, instead of discouraging Azad, reinforces his resolve to protect Meena and also to do everything in his power to make her a famous singer. He approaches his hotelier friend and practically blackmails him into giving Meena a chance to sing at his hotel. The news of her embarking upon a singing career at a notable hotel reaches Bhau, who sends his goons to bring her back to the brothel by force.
The attack on Meena at the hotel forces Dhiren, a famous singer, to intervene and join Azad in fighting the goons off. Being a Bollywood hero, he has to be able to hit out for the heroine in such 'fighting' times, which Dhiren does quite impressively. Later, Dhiren tells that his troupe needs an urgent replacement of the female lead singer, as the previous one had eloped to marry her lover. And Meena, a very talented singer, fits in well. Azad is excited like never before, for he sees a very bright opportunity to deliver on the promise of making her a renowned singer, which Azad voluntarily makes early on in the film. Luckily, he manages to keep his promise a lot better than he had imagined, and while he is at it, he also sees his own dream solidify and take a concrete form. But then, destiny is no slave to human dreams, wishes and devices.
The proximity warranted by having to work together brings Meena and Dhiren close romantically. And Azad, for all the respect and gratitude Meena has for him, never crosses her mind even momentarily in those cupid-inspired moments with Dhiren. And this is where Awaargi is remarkably different from other similarly themed films in which the hero rescues the heroine from a brothel, like Baaghi (1990) and Sadak (1991).
Both Baaghi, released on December 21, 1990, and Sadak, released on December 20, 1991, came well after Awaargi, which was released on January 26, 1990, and were major superhits, unlike Awaargi, which was a box office disaster. But neither of the successful films got into the uncomfortable zone with 'love' that Awaargi stepped into.
Baaghi and Sadak have their heroines conveniently fall for their saviour heroes whereas Awaargi questioned the conventional plot of the freshly uncaged princess making a dash for her valiant knight. Quite understandably, the movie bombed. Not loving the most sacrificing, the most selfless and the most love-needing guy was a bit too much for the audience to stomach. We, as human beings, have never been comfortable with the vagaries of the heart and the complete irrationality of love. We tend to believe in the nobility of love perhaps because we want the powerful to be kind and just, too, for that makes the powerful great, and 'true love' has to be 'great' in every way. However, Awaargi chooses to disregard the feel-good factor and practically punches the audience in the face with the wanton ways of love. So, Azad, the prince, rescues the princess and the princess gives him all of her gratitude, but finds a different prince to crown with her love and to garland with her pretty arms while the rescuer prince stands in nervous wait holding his dream close to heart only to be blown to bits.
By the time Azad discloses his beloved dream to Meena with Meena placed at the centre of it, the budding love between Meena and Dhiren has already blossomed quite rapidly and irreversibly forcing Meena to choose. Being a good girl, as she is, she places selfless gratitude above selfish love and tries to formally give herself to Azad in marriage when he insists on formalizing their barely existent 'relationship' as a proof of Meena's non-involvement with Dhiren after he spots the two getting affectionate in a car. Meena, of course, denies any romantic involvement with Dhiren and agrees to marry Azad and also agrees to an unduly urgent engagement that Azad schedules the next day right there and then, and calls Dhiren immediately to let him know the 'good news'. But Azad is not at peace. All the proof that Meena agrees to parade for the benefit of Azad is not enough to convince Azad that she has nothing in her heart for Dhiren, much less that she has any romantic feelings for Azad. He doesn't feel it in her for him, but he desperately wants to.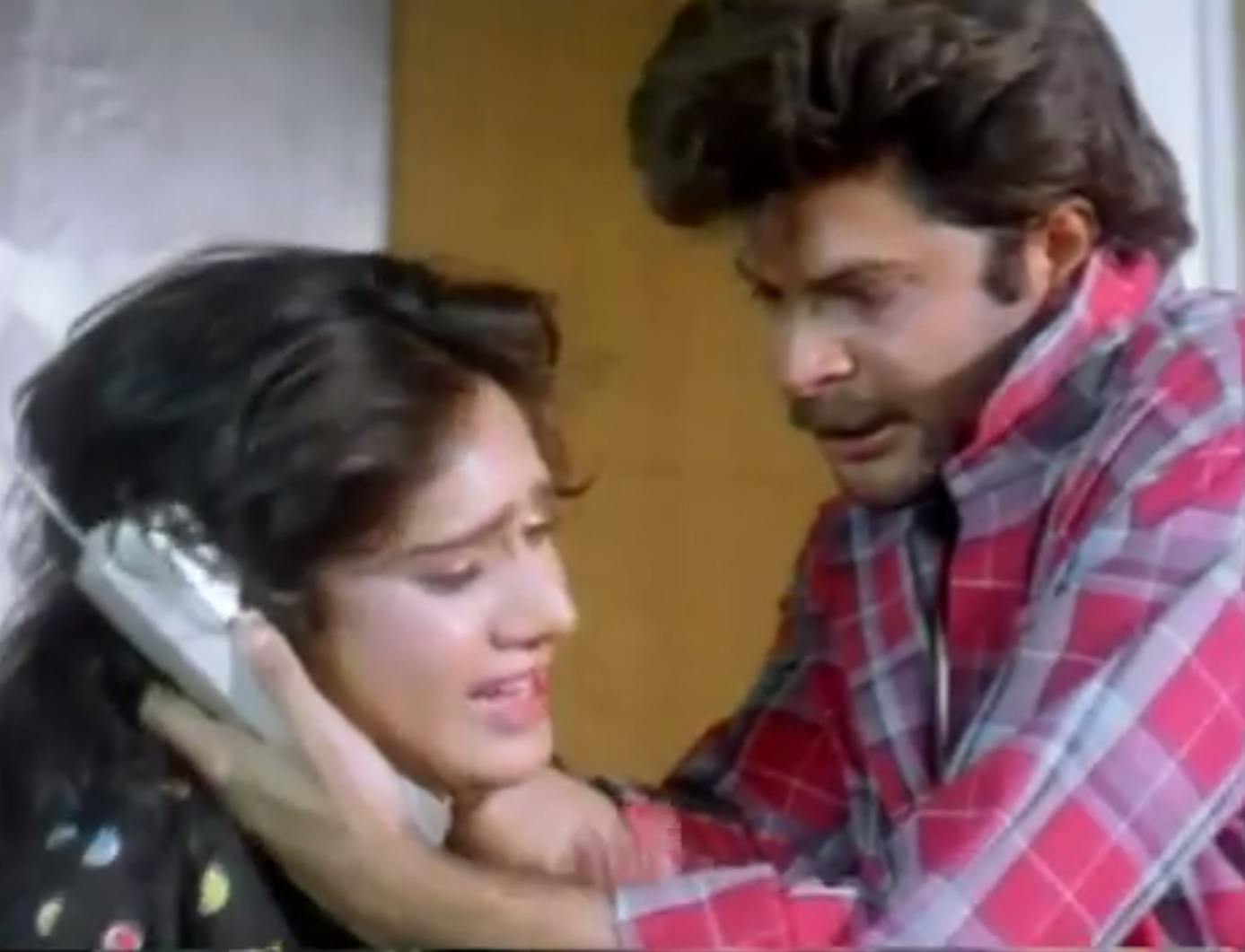 A man of violence, Azad uses both public insults and brute force against Meena in pursuit of love, which no power on earth could ever obtain by coercion. It ends up making things worse for Azad, but Meena realizes in the process that she has been living in denial of two undeniable truths — that she loves Dhiren and that she does not love Azad, gratitude regardless. It also gets amply clear to her that sacrificing her love, happiness and future at the altar of gratitude was going to throw three lives in fire to burn forever. This makes her steel up her resolve to embrace the truth. Finally, Azad realizes his folly, and the goons step up to relieve him of his life thereby balancing the equation in typical Bollywood fashion. The movie ends with Dhiren and Meena naming their child Azad in the memory of the departed soul.
The thematic success of Awaargi lies in the fact that it asks a difficult human question and does not take the easy way out by resorting to the popular solution of synthetically inserting justness into 'love', which — being the most intense emotion known to man and, perhaps, to the animals, too — is well known to throw all caution and all reason to wind without thinking twice. 'Chamakte Chaad Ko', the iconic ghazal sung by the legendary singer Ghulam Ali, aptly conveys the plight of Azad under the crushing blows that love – his own and hers — showers on his heart and soul.
Death, in those circumstances, is a welcome release for Azad, which the movie readily provides to neatly tie up the loose ends with a baby named Azad thrown in at the end together with the words of high praise for Azad from Dhiren for closing comfort. But the heaviness stays on with the viewers. Perhaps the filmmakers did not really intend the audience to feel all that heavy in the heart after a more or less happy ending. However, if happy ending was designed to make the audience feel less unsettled, it did not seem to have worked all that well. And probably it was this seemingly unintended after-effect that made Awaargi the timeless classic it is.
Originally published as part of my Movie Review column LEGAL SCANNER (Classics) in LAWYERS UPDATE [May 2016 Issue; Vol. XXII, Part 5].