The worst, however, came on the night of December 28, 1973, when five whites were shot down. Four died, one survived. Jane Holly (45) went to the laundromat to do some laundry and was the only white in there. She was reaching into the dryer to take her clothes out when a black man pointed a gun at her and shot her twice in the back. She slumped dead right there. Her killer was described by the witnesses as a tall and slender black man wearing a leather coat and sporting a "Fu Manchu mustache". He left the spot in a 1969 Cadillac.
Another casualty of the night was Tana Smith (32), a secretary in Bechtel Corporation, who lived all by herself in an apartment at 2908 California Street. She had recently shed some weight and was shopping for some material at a fabric store to make herself a new dress when, at around 8:00 p.m., a dark man approached her from behind at the intersection of Geary Boulevard and Divisadero Street, and shot her twice in the back before walking away from the scene on foot. An ambulance was called, and she complained of pain to the medical attendants, but died soon after . • 32-caliber casings were found on the crime scene, and it was not hard for the police to guess that they were looking at another victim of Zebra Killings.
December 28, 1973 was the 69th birthday of Vincent Wollin, a retired Coast Guardsman and cabinetmaker, who lived at a care home and had stopped for donuts and coffee at three different places to celebrate his birthday, after which he kept watching shoppers at Macy's and Saks in Union Square before entering the billiards room to play pool. Later in the evening, he caught a bus to see the sunset at Golden Gate Bridge. Wollin was shot on the sidewalk on Scott Street between McAllister and Fulton Streets just 10 minutes after Tana Smith was murdered not too far away. Wollin went facedown on the pavement. An ambulance reached the spot soon enough to find Wollin alive, but he died in transit to the hospital. Shell casings of .32-caliber were picked from the crime scene.
John Bambic (84), who had a rooming house at 285 Ninth Street for residence and added to his Social Security income by going through the garbage, died fifteen minutes later at the hands of a black man when he was rummaging through the trash bin. But after being hit by the bullet and before dying, he turned around to grab the neck of his attacker and started yelling in his face. The assailant screamed back asking the old man to let go of him, which Bambic did and went down on the street, dead.
Roxanne McMillian (23), who had recently moved to a first-floor flat at 102 Edinburgh, San Francisco with her husband and a baby of four months, was shot once in the back and then in the side as she turned to her killer near her apartment. She was carrying a box of kitchen towels from her car to her new house, when a black man came to her and said a 'hello' before shooting her twice. Her husband rushed to the steps of the apartment building, where Roxanne had fallen, and took her to the hospital immediately. She survived after years of painful recovery, but was to spend the rest of her life bound to a wheelchair.
A cold blanket of fear spread over the city, and people started rushing home early in the evening and stayed indoors with their doors and windows firmly close and shades drawn. The police requested the members of the public to help because there were very few workable leads available for the police to work with. All that was known about the killers what that they were young black men preferring .32 caliber automatic pistols to kill white men and women for no apparent reason. The police also guaranteed that the identity of anybody who came forward to help would not be disclosed.
However, after December 28, 1973, there were no attacks for months, and the city had just started regaining ease when the killings resumed in April 1974.
Thomas Rainwater (19) and Linda Story (21), both first-year cadets at the Salvation Army School for Officers' Training Center at 1450 Laguna Street, were walking towards the Mayfair market to grab a snack at 9:00 p.m. on April 1, 1974 after having finished a study period when a black man, who had been following them, overtook them and turned around pointing a gun at them. Terrified, they turned around to flee but the man shot them twice in the back before running away. Linda survived, Thomas did not.
Nelson T. Shields IV (23) was next. And it happened at around 9:30 p.m. on April 16, 1974 when Shields, who was visiting his family friends in San Francisco, went to 231 Vernon Street in the Ingleside district with a friend to buy a rug. Shields bent over the car to make room for the rug in the back of the station wagon when a black man shot him dead. The police found .32 caliber cartridge casings at the crime scene.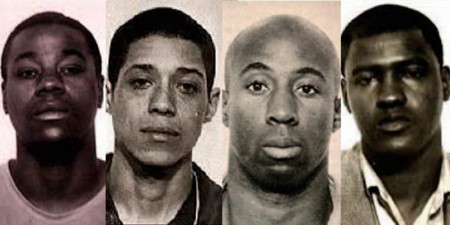 San Francisco was once again terrified and people once again began to prefer staying back home with doors and windows closed and blinds drawn. The flourishing tourism industry of San Francisco took a massive beating when the Zebra Killings started making national headlines. The prospective tourists started booking their holidays elsewhere for the fear of being killed by a random black man for no reason.
In the desperate attempt to nab the Zebra Killers, the San Francisco Police Department made the controversial move of handing to the reporters complete description and sketches of a suspected Zebra Killer. The two sketches showed a black man with a narrow chin. In one of the two sketches the person was wearing a stocking cap while in the other he wasn't. Mayor Joseph Alioto said that it was an extraordinary situation calling for extraordinary measures, and so they would be stopping people with a certain profile and such people could be many. However, Mayor Alioto assured that the constitutional rights of the people would not be interfered with in any circumstances.
Operation Zebra was launched, and cops by the hundreds spread over the city looking for black men who even remotely looked like the person in the sketch. Robert Brooks (23), a private security guard was among the first who were stopped. Dressed in a long black coat with fur collar, a knit stocking cap like the one worn by the person in the sketch and platform shoes, he was waiting for a bus in the Mission District when an unmarked patrol car stopped by and took him in for inquiry. He told the police that he knew only as much about the Zebra Killings and Zebra Killers as anybody who read a newspaper and watched television would know. He was allowed to go and the first thing he did was do away with the cap that got him in trouble. Things were taking a racist turn. Many blacks believed that the profile of the killers released by the police was a very dangerous step because it opened up the very possibility of a racial confrontation. Pronouncing the verdict in a suit filed with support of the National Association for the Advancement of Colored People and the American Civil Liberties Union, U.S. District Judge Alfonso J. Zirpoli ruled that the profiling of African-American citizens was unconstitutional. Operation Zebra was dead. But over 500 black men had already been stopped and questioned by that time. Zebra Killers were still out there, and SFPD had no clue who they were, and how could they be stopped.
Next, the SFPD offered a reward of $30,000 for any information leading to the arrest of the Zebra Killers. And it worked. One Anthony Harris, who worked for Black Self Help and was facing problems supporting his family, responded. After he made a call to the police, the police immediately called him over for questioning. He had a lot to tell from the existence of Death Angels to the point system regarding killing white people. The information Harris provided explained a number of things that had been under the shroud of mystery until then.
Harris revealed that there was a small group of Black Muslims who believed that by killing white people they would be ensured a place in heaven because the white belonged to an inferior race engineered by an evil scientist called Yacub, and that the "blue-eyed devils" or "grafted snakes" that he created deserved to be eliminated. It was unbelievable for the police officers, to start with, but they soon realized that Harris was indeed telling the truth no matter how weird it all sounded. He went on to tell them about another killing that none of the newspapers had reported. The group had kidnapped a white, homeless fellow and had brought him to Black Self Help, where he was stripped and attacked by each of the three men with a knife, a meat cleaver, and a machete. They hacked him to pieces and the body was dumped into the San Francisco Bay. Harris gave the names and addresses of the killers and all the details that the police needed to apprehend the suspects.
On May 1, 1974, in the small hours of the morning, around 100 policemen raided several locations to get hold of the killers. Some forty officers raided the apartment building at 844 Grove Street, where J.C.X. Simon resided in Apartment No. 2 while Larry Green in Apartment No. 7. Twenty other officers raided the Black Self Help Moving and Storage Company on Market Street, which housed two more suspects. None of the seven suspects rounded up resisted arrest. Three of them were later released. Leroy Doctor had already been convicted and sentenced for assaulting Robert Stoekmann with a deadly weapon.
For Simon, Green and Moore the lawyers were provided by the Nation of Islam, but Jessie Lee Cooks had to do with a lawyer provided by the court when the Nation of Islam refused to offer any assistance after he pled guilty to the murder of Frances Rose.
The grisly details of the murders were provided by Anthony Harris, who testified for 12 days, and went on to assert that he had not hurt any of the victims himself. The Defence brought in his long past of emotional problems and accused him of all the killings.
Some 108 witnesses, including Harris, testified with the transcripts collectively running into 8,000 pages and totalling 3.5 million words. Larry Green, J.C.X. Simon, Manuel Moore and Jessie Lee Cooks were found guilty of first-degree murder and also conspiracy to commit first-degree murder, and each one of them was handed down a life imprisonment.
One Dwight Stallings, apart from four other men, was arrested in connection with the Zebra killings, but had to be released for want to evidence. However, retired homicide Inspector Rotea Gilford, the first African-American to become a homicide detective in SFPD, who had arrested Stallings and had known him all his life, reportedly said that Stallings purchased ammunition and was involved in the killings one way or the other but he did not know if he ever killed anyone himself. Stallings died on December 22, 1995 of unknown causes.
Originally written for and published in LAWYERS UPDATE  as a two-part 'Crime File' in March 2015.