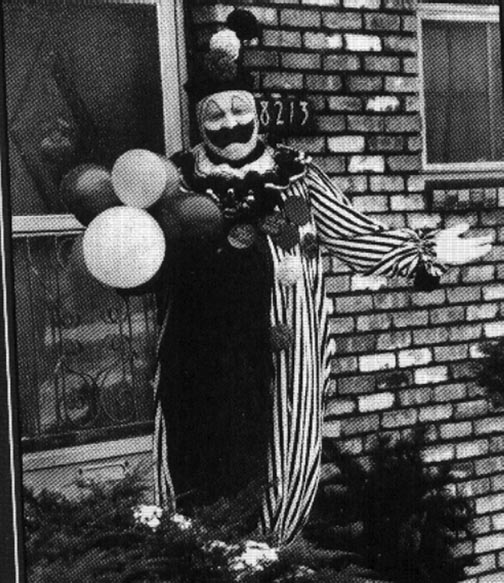 22, 1978, Jeffrey Ringall, having returned from a vacation in Florida, decided to reabsorb the city of Chicago. And while he was headed to New Town, a popular area in Chicago known for discos and bars, he met hefty-built guy, who complimented him on his tan and offered a joint as they went driving around the town. Ringall was happy to have some with a joint. Ringall was happily smoking when a rag dipped in chloroform covered his face and he blacked out. While Ringall was being driven by his attacker, he did have a few wakeful periods during which all he could see was the signboards pass by. The stranger once again used the chloroform soaked rag on him and he was unconscious again.
The next time he woke up, he noticed that he was in the house with a heavy-build man and a number of dildos of different sizes lying around on the floor. The man told him how he was going to use them on Ringall. Ringall was brutally raped, tortured and drugged, and he remained unconscious for the most part throughout the ordeal. The next morning when he regained his consciousness he found himself in Chicago's Lincoln Park under a statue, fully clothed. He spent the next six days in the hospital. Excessive use of chloroform had caused permanent liver damage and he had burns and lacerations on skin. Besides, Ringall's psyche was torn by severe emotional trauma with serious lifelong ramifications. But possibly he did not know then that he was lucky to have survived.
Johnny Butkovich was a 17-year-old who loved cars and was proud of his 1968 Dodge. And since he enjoyed racing his car, he needed money to keep his hobby going, for which he needed to work. So, he started doing remodeling work for PDM Contractors. The work paid well and he enjoyed working. He shared good working relationship with his boss. But it ended unpleasantly when his boss refused to pay for two weeks' work for no good reason. Johnny was upset and went to his boss' house with two of his friends. They argued with him and demanded Johnny's rightful due. There were heated exchanges and Johnny's ex-boss was furious. The teenagers left eventually, and Johnny dropped his friends to their houses. That was the last time anybody saw Johnny alive.
Another 17-year-old, Michael Bonnin, disappeared in June 1976 while he was on his way to board the train to meet his stepfather's brother. Billy Carroll, Jr. was also a teenaged boy around the age of 17, but was always getting in trouble with the law. For quite some time he had been arranging meetings between teenaged boys and homosexual adult males for a commission when he disappeared on June 13, 1976 never to be seen alive again.
Gregory Godzik was also a 17-year-old boy who loved his job with PDM Contractors. On December 12, 1976, after dropping his date off, he was never seen. His car was found by the police the next day, but he was never seen alive again. On January 20, 1977, 19-year-old John Szyc also went missing. He had driven away in his 1971 Plymouth Satellite never to be seen again.
On September 15, 1977, 18-year-old Robert Gilroy was to go horseback riding with his friends, but failed to catch the bus with his friends. His father, a Chicago police sergeant, started searching for his son immediately. Despite a full scale-investigation Gilroy was never found.
More than a year later, on December 11, 1978, 15-year-old Robert Piest went missing from outside the pharmacy where he worked. His mother, who had come to pick him up, was sitting inside the pharmacy waiting for him when he disappeared. He had told her that he was going to meet a contractor who had offered him a job and would be right back. After waiting for quite some time, she got worried and started looking for him. But Piest was not found.
Lieutenant Joseph Kozenczak of the Des Plaines Police Department led the investigation into the disappearance of Piest and after having come to know of the contractor who promised Piest a job, he was at the doorsteps of John W. Gacy. He told the officer that he could not accompany him to the police station because there was a recent death in the family and he had to attend to a few phone calls. However, a few hours later he arrived at the police station and his statement was recorded. He said that he knew nothing about Piest's disappearance.
Lt. Kozenczak was not very convinced with Gacy claim of non-involvement and ran a background check which yielded the disclosure that Gacy had been convicted of sodomy in the past and had served time. Kozenczak obtained a warrant to search Gacy's house.
The police searched Gacy's house in his absence and confiscated a number of items. They also looked into the crawlspace under Gacy's house. It had been sprinkled with lime but otherwise it appeared untouched. The police did not find anything that was readily incriminating and returned back to the headquarters.
Gacy was called to the police station and was furious when he came to know about the items the police had confiscated. He called his lawyer and when he was presented with a Miranda waiver, he refused to sign it on the instructions of his lawyer. Since there was nothing to arrest Gacy for, the police had to let him go, but was put under round-the-clock surveillance. Police interviewed some of Gacy's friends and acquaintances but none of them was willing to believe that Gacy was capable of killing. He was the good guy who would dress up as clown to entertain children.
But things were not going right for Gacy. In May 1978 Gacy had abducted, raped and assaulted Ringall, who, determined to catch hold of his attacker, worked with whatever he could remember of the incident to trace Gacy. And months before Gacy was arrested in connection with Piest's disappearance, Ringall had decided to wait at a highway exit that he remembered from his short wakeful periods in Gacy's car when he was being driven by him to an unknown location. His stake out paid off and he soon spotted the familiar car with the man who had brutalized him. He followed the car to Gacy's house. After he got to know the name and address of his attacker he pressed sexual assault charges. He had already been charged in the Ringall case when Des Plaines police arrested and later released him.
The police pursued the case intensely and after close investigation and dogged lab work, the investigators came across critical evidence against Gacy when it was found that one of the rings confiscated from Gacy's house actually belonged to John Szyc, a teenager who had disappeared a year earlier. It was also found that some of the young boys working for Gacy's companies had mysteriously disappeared. Something was not right about Gacy and the police were back at his residence looking for more.
Gacy finally gave in and revealed that he had killed someone but it was in self-defence. He also told where he had buried the body in the garage. The police also marked the place where Gacy told the body was buried but they wanted to first have a good look at the crawlspace. They spotted an area in the crawlspace that looked suspicious. On digging they found the remains of a human body. Gacy had killed at least two. Dr. Robert Stein, Cook County Medical Examiner, was roped in to help. And the moment Stein set foot on Gacy's house, he could recognize the unmistakable smell of death.
Stein carefully marked the areas to be dug and supervised the digging the whole night and well into the day. The first day they had found two bodies – the one found under the garage was John Butkovich's body and there was another found in the crawlspace. As the digging progressed the body count rose. In the meanwhile, Gacy confessed to having killed more than 30 people, and disclosed that most of the bodies were buried in the crawlspace.
By December 28, 1978, the police had already removed twenty-seven (27) bodies from Gacy's house and some of the victims still had their underwear stuffed up in their throats. Gacy had told the police that he would handcuff his victim and rape him, and to prevent him from screaming he would stuff his underwear or socks into his mouth choking the victim, and would kill him by either strangling with a rope or by thrusting the boards against his throat as he raped. He admitted to having killed more than one person in a day on several occasions. Many of the bodies were buried very closely because according to Gacy he was running out of burial space.
Around four weeks before the bodies starting flowing out of Gacy's house, the naked body of Frank Wayne "Dale" Landingin was found in the Des Plaines River. But at that time Gacy was not associated with his disappearance. However, when Landingin's driving license was recovered from Gacy's possession, it was clear that Gacy had killed more people than the number of bodies he had buried in his house. Then on December 28, 1978 the police removed the body of James "Mojo" Mazzara with his underwear stuffed in his throat from the Des Plaines River. Later, Gacy told the authorities that he was running out of burial space and his back had started giving him trouble, which is why he had started dumping bodies into the river. The police were digging Gacy's house even at the end of February and a body was found even under the recreation room. Thirty-two (32) bodies had been recovered including the ones in the Des Plaines River and another one found in the Illinois River, but Robert Piest remained a mystery until the Illinois River produced his body. Gacy's house was destroyed.
Gacy's trial began on February 6, 1980 in the Cook County Criminal Courts Building in Chicago. He pleaded not guilty for the reason of insanity. On March 13, 1980, the jury found him guilty. Gacy was executed by lethal injection on May 10, 1994 at the age of 52. Gacy went down in public memory as the most dangerous clown ever.
Originally published as part of 'Crime File' in LAWYERS UPDATE in September 2010.