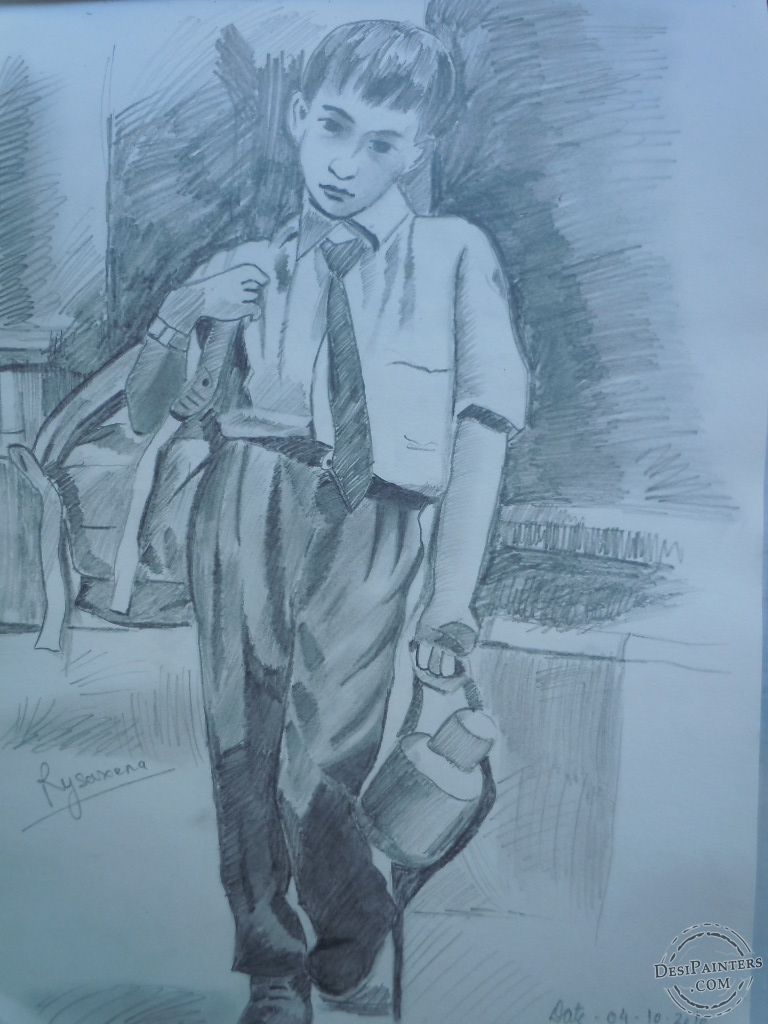 Statement 1: "Main aapko bike pe ghumaunga. Hum badi aish karenge…Ice cream bhi khilaunga." ("I'll take you around on bike. We'll have lots of fun. Will also get ice cream for you.") – A 4-year-old boy to a distant female relative of 24 (twenty four).
Statement 2: "Didi, aap bahut sundar ho. Main bada hokar aapse hi shaadi karoonga." ("Sister, you are very pretty. When I grow up, I'll only marry you.") — A 5-year-old boy to a 22-year-old cousin sister.
Statement 3: "Jab main badi ho jaungi na to **** Bhaiya ki 'girlfriend banungi." ("When I grow up, I'll be **** Bhaiya's girlfriend") – A 10-year-old girl to her female friend of the same age referring to a male neighbour of 25 (twenty five).
A barely 5-year-old boy living in the Kingsway Camp region of North Delhi found it entertaining to aim his laser pointer at the passerby girls on the street and also at the girls that lived in a paying guest accommodation across the street. The anatomical choices he made for his laser pointer embarrassed and infuriated many. A few girls took it up with the mother of the child, and the lady found the complaints frivolous, for her little, innocent boy could do no wrong like the British Crown. Her idea of a 'solution' was that if her baby prince was too much trouble, the passersby could take different streets, and the tenants could look for other accommodations. Such deplorable defense of a child's inappropriate is not exactly unusual. Things like "he is just a kid", or "he doesn't really know what he is doing", "no, he is really very innocent" are regularly said in defense of the chile even if the defense is not as brazen in the case reported above. The indefensible not only cannot be defended, but also must not be defended. In fact, it's a moral obligation of the parents to 'not defend' such conduct of their children.
Let's now consider the 'cutie statements' cited above to know exactly how 'cute' and innocent they really are though people are likely to smile, laugh, giggle and guffaw at all three alike. 'Statement 2′ and 'Statement 3′ fall in, more or less, the same category. Both the statements are aspirational with the idea of a relationship at the center. The child in 'Statement 2′ wants to have a pretty wife, finds his cousin beautiful, and expresses his desire to marry her when he is eligible to do so. Generally, children understand marriage as something that has the effect of keeping two people together forever. So, they want to marry to keep the person with them for all times.
'Statement 3′ is much like 'Statement 2′ except for the predominance of 'romance' in the former, which is why the little girl aspires to be a 'girlfriend' and not a 'wife'. She has found someone she would want to be 'her special someone'. Given her age and the exposure that comes with a metropolitan background and lifestyle, the girl associates youthful 'romance' with being a 'girlfriend'. And since she seeks 'romance' in a relationship, she aspires to be a girlfriend. In this case too, 'relationship' is central. Quite obviously, both of the kids do not fully understand the implications of 'bhaiya' (brother) and 'didi' (elder sister) because of their limited understanding of complex societal norms and their intricate interplay.
However, 'Statement 1′ has nothing in common with the other two statements. The child wants to take the girl on some kind of a date. But make no mistake; it's not a romantic, candlelight dinner that he has on his mind. He would take the girl around on a motorbike though his little legs might present some difficulty there. The ice-cream is also on the menu as an additional perk. And they would have lots of 'fun'. The expression 'aish karenge', in this context, takes a particularly squalid colour because of its unmistakable sexual undertones, and would sound quite repulsive coming from a 4-year-old. The first indicator of a rotting society is the general acceptability of filthy speech.
While in the other two statements the children treat themselves as children and talk of their future as grown ups, in 'Statement 1′ the kid brazenly positions himself as a 'male' trying to persuade a 'female' to go out with him on a 'fun date'. A ride on the bike and ice-cream are used as incentives – tools of persuasion. There is no relationship of any kind in sight here. There is no 'romance'. It's just 'fun'. Why? Well, because women are meant to have 'fun' with, objects to be 'enjoyed', things to be 'used', toys to be 'played' around with. The kid does not see himself as a kid and despite his pint size he would take her around on a motorcycle, for he is the consummate 'user' by virtue of being a male.
The apparently innocuous statement carries, in the miniature form, the complete male-centered power structure that breeds and sustains men who look at girls and women as sexual objects to be played with, and bitterly resent if their favourite toy talks back or asserts its independence in any manner including by spurning unwanted, sexual advances. Eve-teasing – which is just a soft word for sexual harassment of different degrees – acid attacks, rapes and gang rapes are resentful, bitter assertions of male dominance aimed at suppressing the newfound female independence. That she, who suffered silently all these centuries, suddenly musters the courage to say 'no' is not what the traditional 'users' of this 'fun object' are ready to tolerate.
When catcalls and obscene street remarks are objected to, the harassers turn into physical molesters, and many a time rapists and gang rapists as well. When an eve-teaser's 'love proposal' is rejected, the jilted lover becomes an acid-thrower. Bottomline: 'No' is not allowed.
Serious offenses against women like acid attacks and many a time even gang rapes start with eve-teasing, rather 'sexual harassment', as it should be properly called. As pointed out earlier, it is when the woman takes a stand against the harassment that she subjected to inhuman treatment in retaliation. On the issue of 'eve-teasing' (sexual harassment, that is) the law, the government and the courts are getting tougher by the day. Is that a solution? Yes, it is, to an extent because the thorns that hurt must be taken out. But the problem is the tree. So, the solution is in the roots.
'Statement 1′ was made by the 4-year-old at an informal gathering of two families related by marriage in the domestic, drawing-room setting. It is easy to imagine the peels of feminine laughter with all aunties, bhabhis, buas, didis and maasis joining in to celebrate the 'cuteness' of their little smarty. No harder it is to imagine a smiling, proud father sitting or standing nearby, and muttering inaudibly to himself, "That's my boy!"
The 24-year-old girl to whom this statement was made texted it to me. It left me majorly irritated and my first, deliberately restrained response was: "Well, not exactly a nice boy." (verbatim). "I felt instantly disgusted," she said. She also admitted, rather regretfully, to having smiled for the sake of politeness. Wallowing in the resounding approval of all, the little boy must be very pleased with himself and with the course he is on.
The girl felt that the little boy could not be scolded because it is his parents and his upbringing that must be held accountable. That's another major mistake. We do not draw psychological maps of a criminal to find what made him the criminal and go after those who contributed to the formation of his criminal psyche. We punish the criminal for the offense, plain and simple. Take care of the symptoms or the secondary disease or infection, then deal with the principal malady and then get to the prevention. That's how doctors work. That's how the law and legal systems works. And that's how legal scholars, jurists and social scientists look at such issues and apply themselves to it to find a solution. But in this case, the least one can do, to begin with, is not encourage such 'cuteness' by looking 'amused' by it.
The law has to and does take care of the harassers with the law enforcement agencies already gearing up to do more to prevent sexual harassment in public places. Some of the states – like Uttar Pradesh – have come up with measures such as the helplines one could use to report instances of harassment without having to confront the offender, and without having her own identity disclosed. Recently, the Chief Minister of Madhya Pradesh, Shivraj Singh Chouhan, announced that the eve-teasers would not get driving licenses, passports and other government facilities, and that a database of eve-teasers for this purpose will be maintained. These two states have taken those measures in the past two months. So, the Indian state is stirring up, which is primarily because the problem has assumed alarming proportions.
Sterner laws, harsher punishments and swifter action against the offenders might sound like god-sent panacea, but the remedy comes with certain serious side effects. Like in case of the anti-dowry laws, an over-zealous approach to effective enforcement might make the remedy prone to gross misuse. Since the best way to prevent retaliation against the victim is to keep her identity secret, the measure opens itself to misuse in many ways. Its core strength is also its foundational weakness. But that risk has to be taken simply because when the society fails keep its unruly elements in check, the state is compelled to intervene.
So, the other bottomline is: Either you teach your 'cutie' 4-year-old his lessons the mommy way at home today, or the police will teach him the ways of the world tomorrow by the roadside the big-daddy way.
Originally written for and published as Cover Story in LAWYERS UPDATE 
[December 2012 Issue; Vol. XVIII, Part 12]